Publisert: 26.08.22
Data Scientist - Summer Internship 2023
Oda is a company on the move. We built Norway's leading online grocery store and now we want to share what we've created with the world! Delivering a huge range of high-quality, affordable groceries and fresh produce to millions of doorsteps is a complex process, but we believe we've cracked the code. Using data-driven methodology, with a focus on sustainability all the way along the chain, we are building the most efficient retail system in the world. With solid backing from some of the biggest international investors in the world, we're proud to be one of the fastest growing companies in Europe.
To solve a completely unique set of complex problems, we're building a strong product and technology team, and a wonderful workplace for great people. As a part of that, we give a handful of students a unique opportunity to join our tailored summer internship program for students in design, technology, and data science. Are you one of them?
To be successful, we believe you:
Want to use data to improve our shopping experience, logistics, and distribution operations.
Are motivated by solving real-life problems by combining business acumen, technology, and analytical understanding.
Have some knowledge of machine learning, optimization, or statistical analysis.
Know some Python programming and maybe a bit of SQL, which are the languages we use to build many of our solutions and analyze data.
Preferably complete your master's degree in 2024.
Would be eligible for full-time work by August/September 2024.
Speak English fluently. Ability to speak and understand Norwegian is a plus.
Our summer internship:
Cross-functional teams: We believe that product and technology development works at its best in cross-functional teams with a high level of autonomy. We like to work across functions to better understand which problems to solve and to create great results with actual impact. That is why our summer interns work in teams with engineers, data scientists, and designers, typically with 3-4 students on each team.
Real projects: We live and breathe to make sure that what we build actually makes a difference. That is why our summer students will take on important challenges with the goal to have made actual real-life products by the end of the summer.
Mentorship and learning: Through concrete work in a cross-functional team on real projects that will make an impact, we will provide relevant and valuable experience, technically and professionally. We offer experienced coaches within design, engineering, and data science so that both you and we are left with important learning.
You can read more about our platform and technology team here.
What you can expect to experience from a summer with us:
We have total control of our design and technology; from our app and touchpoints, all the way to the systems used in our Fulfilment Centers, distribution, picking and purchasing. You'll get to spend at least one day getting to know all parts of our value chain to see what goes on in each step; from incoming and picking to delivery and customer service.
You'll get a peek into what our product & technology teams are working with and a unique insight into our company strategy - now and in the future 🚀
We have several social events happening throughout the summer. We kick off the internship with a proper party, and there will be many opportunities to experience how wonderful Oslo is during the summer 🌞
You'll get the chance to present your work at the end of the summer and in a mid-term demo where you'll also receive feedback from experienced designers, engineers, and data scientists. Throughout the summer we have team meetings and sharing sessions to enhance our learning and share valuable tips and tricks.
You'll get your own desk, chair, MacBook, and any other equipment you might need in our brand new offices at Tøyen - right in the middle of the pulsating city life of Oslo.
Join the Oda team for lunch and get to know our great colleagues across disciplines. We believe good lunch is good business! 😋
Time and place:
The summer internship will take place from 12.06.2023 to 04.08.2023, with the possibility of having one week off in July. We'll be located in our brand new and hyper-modern offices in Tøyen from March 2023.
Application deadline:
Please make sure to submit your application by 01.10.22. Applications are assessed continuously.
Curious about what it's like behind the scenes in Oda? Follow our Instagram account: Oda.inside 🧡
Oda is committed to being an inclusive community, cultivating diversity, equity and belonging into our everyday workplace culture. When hiring for our team, we welcome the unique contributions that people can add with different cultural backgrounds, ethnicity, sex, gender identity and expression, nationality, age, languages spoken, religion, disability, sexual orientation, education and beliefs. If you have a disability such as a hearing, or visual impairment or any other neurodivergent need that requires accommodating during the hiring process, please let us know in advance. You can do this by contacting the job owner or hiring manager.
As a part of Oda you'll will be working with enthusiastic, skilled and ambitious people, shaping tomorrow's shopping experience. Come build the future with us!
If you'd like to know more about how we work, check out our stories on Medium. We look forward to hearing from you!
---
Om Oda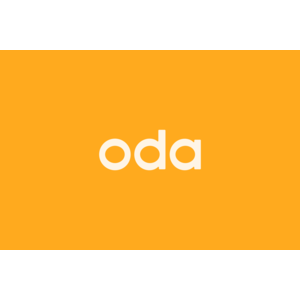 Profil
Bli med å revolusjonere en hel bransje
Siden starten har vi vært lidenskapelig opptatt av å bygge fantastiske kundeopplevelser og å tenke radikalt nytt innen bruk av teknologi og data for å lage morgendagens dagligvarehandel. På veien har vi blitt et sterkt Product & Tech-fagmiljø med en unik kultur. Vi har såvidt begynt.
Vår filosofi har ført til at vi har begitt oss ut på reisen med å redefinere brukeropplevelsen, teknologien og bruken av data i alle ledd innen dagligvarehandel; og summen av dette er en teknologisk plattform som er ganske unik i verdenssammenheng og som med enkle grep kan bli en ekte handelsplattform.
Vil du bli med oss?